Exeter Yaroslavl News
Russian Xmas Fayre - Exeter Guildhall 21 December 2019
10:00 -13:00
The Christmas Fayre is our main fund-raising event and we would like to make it a great success. We would be very pleased to have contributions as follows:
Home produce goods: Jams, chutneys, jellies, marmalade, cakes, biscuits, preserves etc.
Hand-made Christmas decorations or Christmas craft materials (ribbon, paper, fabric etc.).
Cakes, biscuits and mince pies.
Prizes of any sort for the tombola stall.
Unwanted jewellery of any sort.
Russian goods
Books & Bric-a-brac
If you are able to donate any goods, please let us know and we will collect them. Alternatively, just bring them along on the day. Contact us.
---
Christmas Greetings from the Lord Mayor of Exeter
We have received Christmas Greetings from The Lord Mayor of Exeter Councillor Peter Holland
The Lord Mayor sends his very best wishes for happiness, peace and good health, now and in the new year.
The Lord Mayor of Exeter is Honorary President of our association.
---
Christmas Play inspired by "Lukomorie" Fairytale
15 December 2019
"Lukomorie... in Exeter" – The Fairytale Christmas play for children and adults!
Exeter Language Club together with the Exeter-Yaroslavl Twinning Association are very pleased to invite children and adults to join us this year again. A relaxing and fun afternoon for the whole family.
The pantomime is for the English speaking audience
Children and adults will be able to enjoy a stage play, featuring some of the "most wanted" characters from traditional Russian Folk stories, learn about Pushkin as well as meet Father Frost and the Snow Maiden (Дед Мороз и Снегурочка).
With thanks to Exeter's Streetbeat, all children are welcome at the fun filled children's disco following the pantomime (targeted children age is 4 to 9 yrs, but younger and older are also welcomed!) Christmas gifts will be given out to each child by Father Frost himself!
Sunday 15 December ‪from 2 pm - 4 pm
NO TICKETS SOLD AT THE DOOR, SALES ONLINE ONLY: BOOK TICKETS
---
Russian Conversation Group 16 December 2019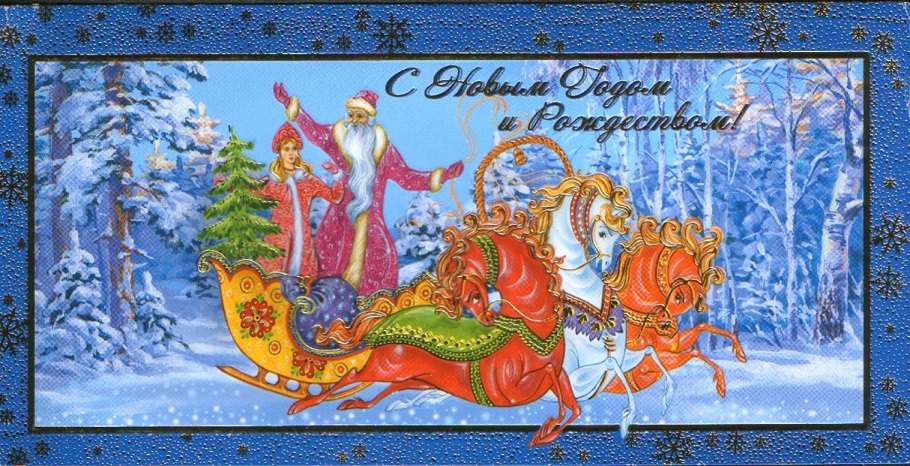 Leader: Nataliya
Venue: Exeter
Nataliya has kindly agreed to act as our leader at our Russian Conversation Group on 16 December 2019
Topic will be Christmas. You many like to prepare something about Christmas. Prose, verse or whatever you wish.
Note:
Veronika cannot attend on 16 December. She will be with us again in January. We will be able to cover the activities she had planned. Date and details will be published here as soon as available
---
Annual General Meeting 24 October 2019
Thank you those who attended our AGM last night and for those who were unable to attend here is a brief report.
Angela Samuel has retired from the committee but will remain an active member of the association. Ira Starodubtseva was elected to the vacancy. We welcome her. It is nice to have a Russian committee member.
---
New E-visa Application Process
New e-visa scheme for St Petersburg and Leningrad. Free and available to citizens from 53 countries. Mainly EU countries and we have some members who could use it. Hopefully, the scheme will be extended.
Thanks to Ira for drawing our attention to this.
---
Late Ron Crabb BEM
We remember our former member the late Ron Crabb with great affection. Amongst his many achievements Ron was a senior football referee.
Exeter City Football Club have prepared a special on-line portfolio of photographs of his refereeing career. You can see it here.
Dr Todd Gray gave a fine eulogy to Ron at his funeral in Exeter Cathedral. It is here.
---
Autumn Newsletter Now Available
Our Autumn newsletter is now available. It has our lastest news and details of our forthcoming events.
Our members will have received a copy, but if you would like a copy please ask.
Similarly if you are member and have not had your copy or would like another copy please ask.
---
Twin City Country Flags at Exeter City Council Offices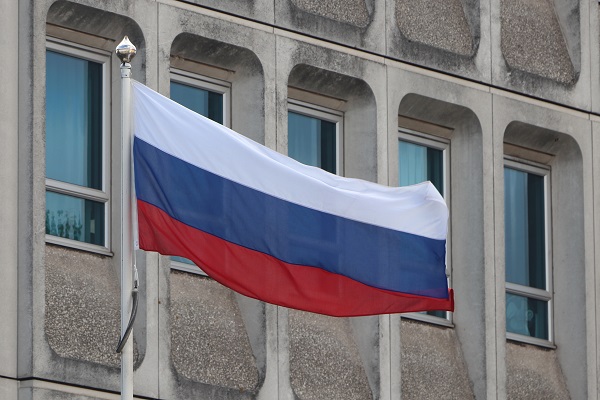 The country flags of Exeter's twin cities are flown outside Exeter City Council's offices. Here is the Russian flag, representing the friendship link with Yaroslavl.
It would be interesting to know if any other UK councils do the same? Please let us know if you are aware of any doing so. Contact us
---
New Road Signs for City of Exeter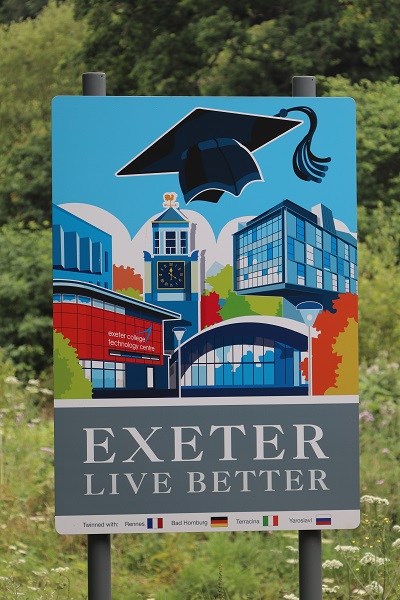 City of Exeter has new road signs marking the begining of the city. There are several different designs, with different logos and main pictures.
Each design features the country flags of Exeter's four twin cities; Rennes, Bad Homburg, Terracina and Yaroslavl. Flags and city names are at the foot of the signs, in alphabetical order by country. Coincidentally that is the chronological order that the twinning agreements were signed.
The twinning agreement with Yaroslavl was signed in 1989. Our association was formed shortly afterwards. Our main purpose was and still is to enable ordinary citizens to partipate in twinning. Our partner society in Yaroslavl, was founded around the same time as us:
Yaroslavl Exeter Friendship Society
«Общество Дружбы Ярославль - Эксетер»
If you would like information about us or our partner organisation in Yaroslavl please ask
---
Nataliya Goncharova's backcloth for the Production of Stravinsky's ballet "Firebird"
Originally presented in 1910, Diaghilev revived it for London in 1926. He commissioned Nataliya Goncharova to design new sets and costumes. This backcloth for Scene II evokes a traditional Russian city skyline of towers and gleaming golden onion domes.
Interestingly, Stravinsky's piano teacher was Leokadiya Alexandrovna Kashperova, who was born in Lyubim, smallest town in Yarosalvl Oblast. We hope that Kashperova's symphony in b minor will be performed in both Yaroslavl and Exeter in 2021 or 2022
Enquire about our forthcoming plans
---
Russian Conversation Group Next meeting 12 August 14:45
Preparation: Either bring a picture which Veronika brought or download one by Natalia Goncharova. Alternatively something by another Russian Silver Age artist.
Be prepared to say something about it. Use some participles (verb used as an adjective) e.g. «Сидящий» / "Sitting"
Also adjective(s) used as a verb e.g. «Белеет парус одинокой» / "The lonely sail is showing white"
The exhibition which Veronika spoke about: https://www.tate.org.uk/whats-on/tate-modern/exhibition/natalia-goncharova
Looking to seeing you then for another interesting workshop. — with Veronika Maltby and Ira Starodubtseva in Exeter, Devon
Enquire about our Russian Conversation Group
---
Interesting Russian Coins
The grandfather of one of our members was working in Russia before the 1917 Revolution. In 1918 he returned to his home in Germany. With him he brought two interesting Russian coins.
The first coin appears to be a silver one Rouble coin, marking 300 years of the Romanov Dynasty 1613 - 1913. The head of the coin show Tsar Nicholas II and his ancestor Michael I, the first Romanov Tsar.
The second coin is also a silver Rouble coin, as far as we can tell it dates from 1817.
If you are able to give us any information or thoughts about these coins please let us know
---
Yaroslavl - Exeter: 30 Years of International Friendship
The twinning agreement between Yaroslavl and Exeter was agreed by the civic leaders in 1989. Our association was then formed to enable citizens to become involved in the twinning link. At the same time also our partner organisation Yaroslavl Exeter Friendship Society was set up.
In 2019 we are celebrating 30 years twinning anniversary. Leader of our 2019 group in Yaroslavl Bob Bradshaw received a letter from Vladimir Volkov, Mayor of Yaroslavl to Councillor Peter Holland Lord Mayor of Exeter, marking this important anniversary.
Bob presented the letter to the Lord Mayor at a short ceremony in Exeter Guildhall.
You can read the letter in English or по-Русски.
---
Report - Visit to Yaroslavl 2019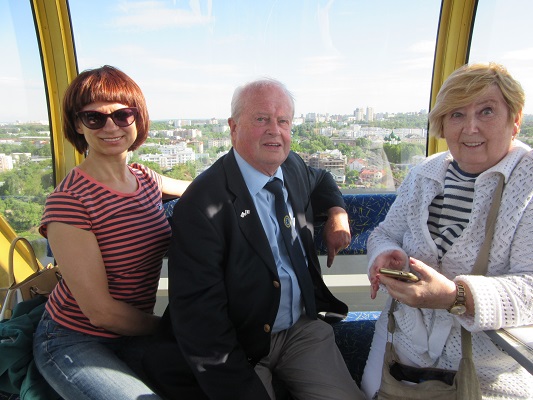 Sally Manning who was with our group in Yaroslavl 23 May - 1 June this year has written an excellent, thorough report on the visit.
Read it here
If you are interested in joining our next visit to Yaroslavl please let us know. It is never to early to express interest.
Tell us via our contact form.
---
Pen Friend Link with Yaroslavl Sought
Jez, one of our new members would like a pen friend in Yaroslavl.
This would be a good way to learn about each other's cities and build friendship and improve language skills
Jez is starting to learn Russian and likes all things Russian.
If you would like to be put in touch with Jez please tell us. Give us your email address, maybe a few things about yourself and we will pass those on to Jez.
Tell us via our contact form.
---
---
Yaroslavl City Day 2019
This year our group's programme in Yaroslavl included the "City Day" festival. It is always an outstanding festive gala.
You can read the Yarolsavl City Day Programme in English or по-Русски.
We are already receiving requests from people who want to come to Russia with us in 2020. It is not too early to express interest
Tell us via our contact form.
---
---
Lord Mayor of Exeter Commendation
We have received a Commendation from the Lord Mayor of Exeter.
It was presented at the Guildhall to us for promoting good civic relations and internationalism.
Peter Barker, Marilyn Pegg and Rita Watson attended the presentation ceremony and received the commendation on behalf of all members of our association. Congratulations to you all.
---
Russian Language Tutor Sought - North Devon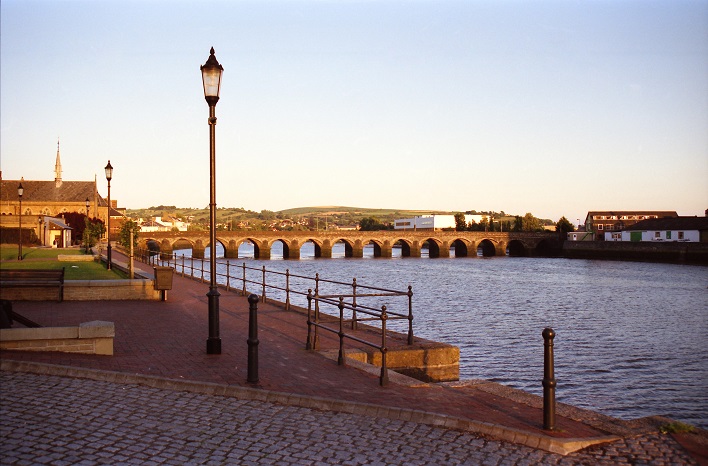 We would like to hear from anyone who can provide Russian Language tuition in North Devon. Particularly Barnstaple or surrounding area.
We have a member who would be interested. Please let us know and we will put you in touch with them
Contact us about Russian tuition
---