About Us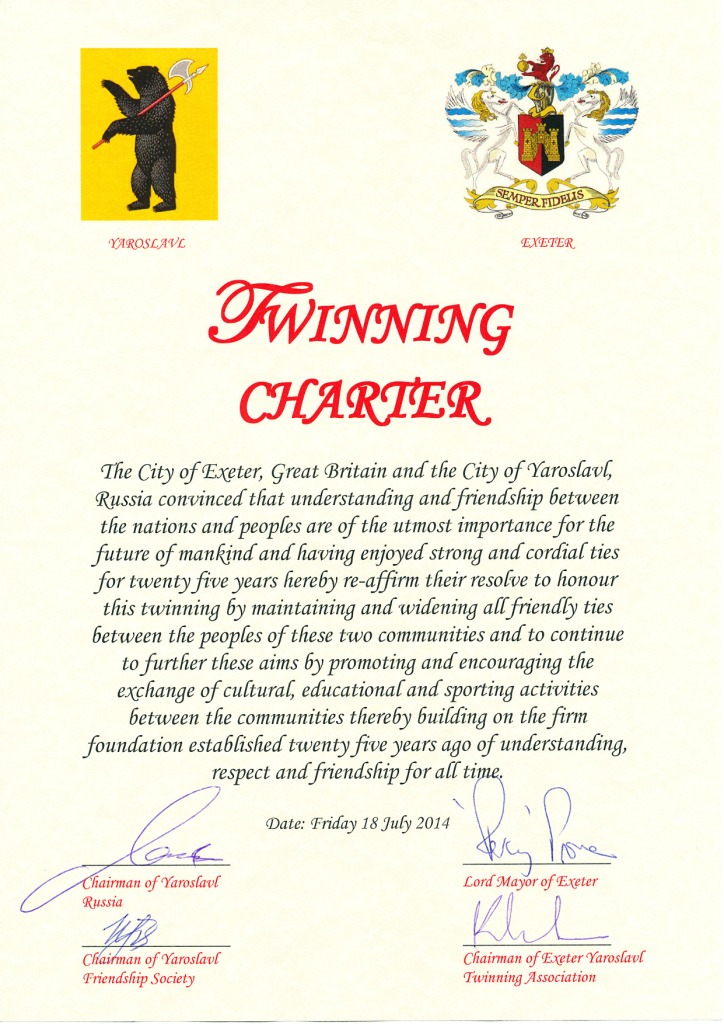 We promote friendship, visits, exchanges and links between the cities of Exeter, England and Yaroslavl, Russia.
We were founded in in 1990 and our twinning activities include:
Twinning visits to Russia
Twinning visits of Russian guests to Exeter
Regular Social Events
Monthly Coffee Meeting
Monthly Russian Conversation Group
Annual Russian Christmas Fayre in Exeter
Regular Newsletter
Website www.eyta.org.uk
We enable private citizens to participate in the civic partnership between Exeter and Yaroslavl. The Lord Mayor of Exeter is our Honorary President.
We work closely with Yaroslavl Exeter Friendship Society, our sister organisation in Russia.
We are a member of Devon Twinning Circle; our local "umbrella" organisation for twinning associations.
A group of our members travels to Yaroslavl for a 10 day exchange, normally every other year, in May or June. They stay with Russian host families to experience Russian culture and hospitality first hand. In return, a group from Russia visits us in alternate years normally in July, staying with British hosts to experience our culture and hospitality.
Sometimes members travel to Russia separately from the main group. They invariably receive a warm welcome in Yaroslavl and are looked after well.
We obtain the necessary invitations for our members to visit Russia as part of the group, as well as providing advice and support with their Russian visa application.
We also arrange or facilitate exchanges or links between sports clubs, schools, business groups, health workers, architects, musicians, chess players, and many individuals.
Our fund-raising and social activities throughout the year often have a Russian theme.
Membership is open to all and new members are most welcome.
You do not need to speak Russian to join our association nor to visit Russia with our group. Many of our Russian friends speak excellent English and welcome the opportunity to meet and converse with us.
However, if you would like to learn or improve your Russian we have several members who are excellent teachers of Russian, willing to assist learners at all levels. In addition, our Russian conversation group meets monthly.
Membership fees run from 1 September to 31 August of the following year. New members who join between 1 July to 31 August will be considered to be fully paid up until 31 August of the following year.
The form shows current membership rates and where to send it. If you prefer you can simply pay direct to our bank and send a note or an email to our treasurer to tell us that you have paid.
Our bank details are:
Santander          09-01-55      35972083     Exeter Yaroslavl Twinning Association
Current members can use the same form to renew their membership