Exeter Yaroslavl News
Father Peter Scorer RIP
We are sad to report the Father Peter Scorer has died. He was priest at Exeter Orthodox Church and a founder member of our association. He and Irina have continued membership ever since.
His funeral will be at St James Church on Friday 18 September, but due to Covid attendance will be limited to 30 people, so only family will be able to attend.
We will send a condolences card to Irina early next week. If you would like to add a personal message to the card please send it to us by Monday 21 September. We would also appreciate any reminiscences or information about his life and career. We will then write up a article about him. Photographs would also be welcomed
If you need our email address contact us
---
City Day Yaroslavl 12 September 2020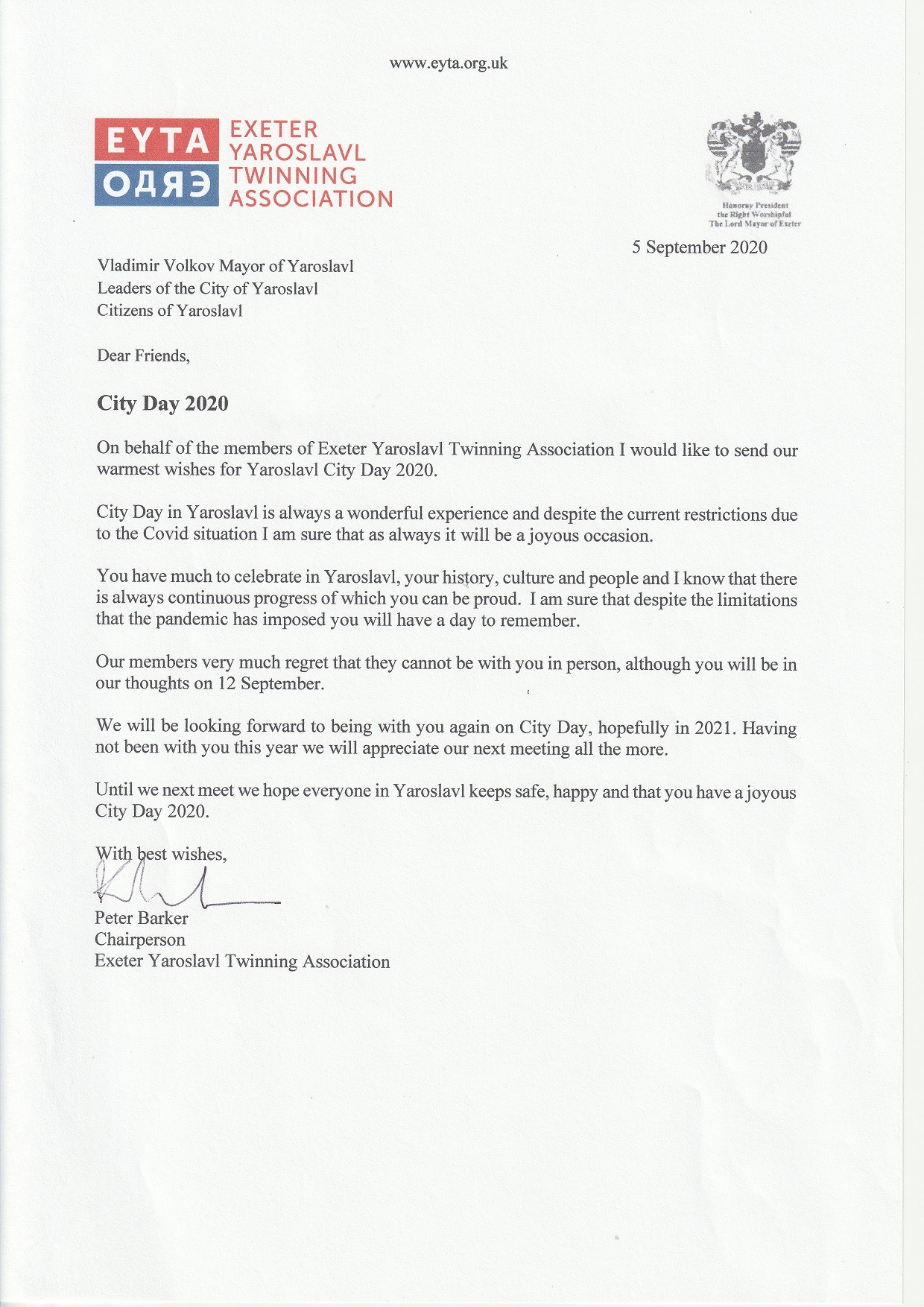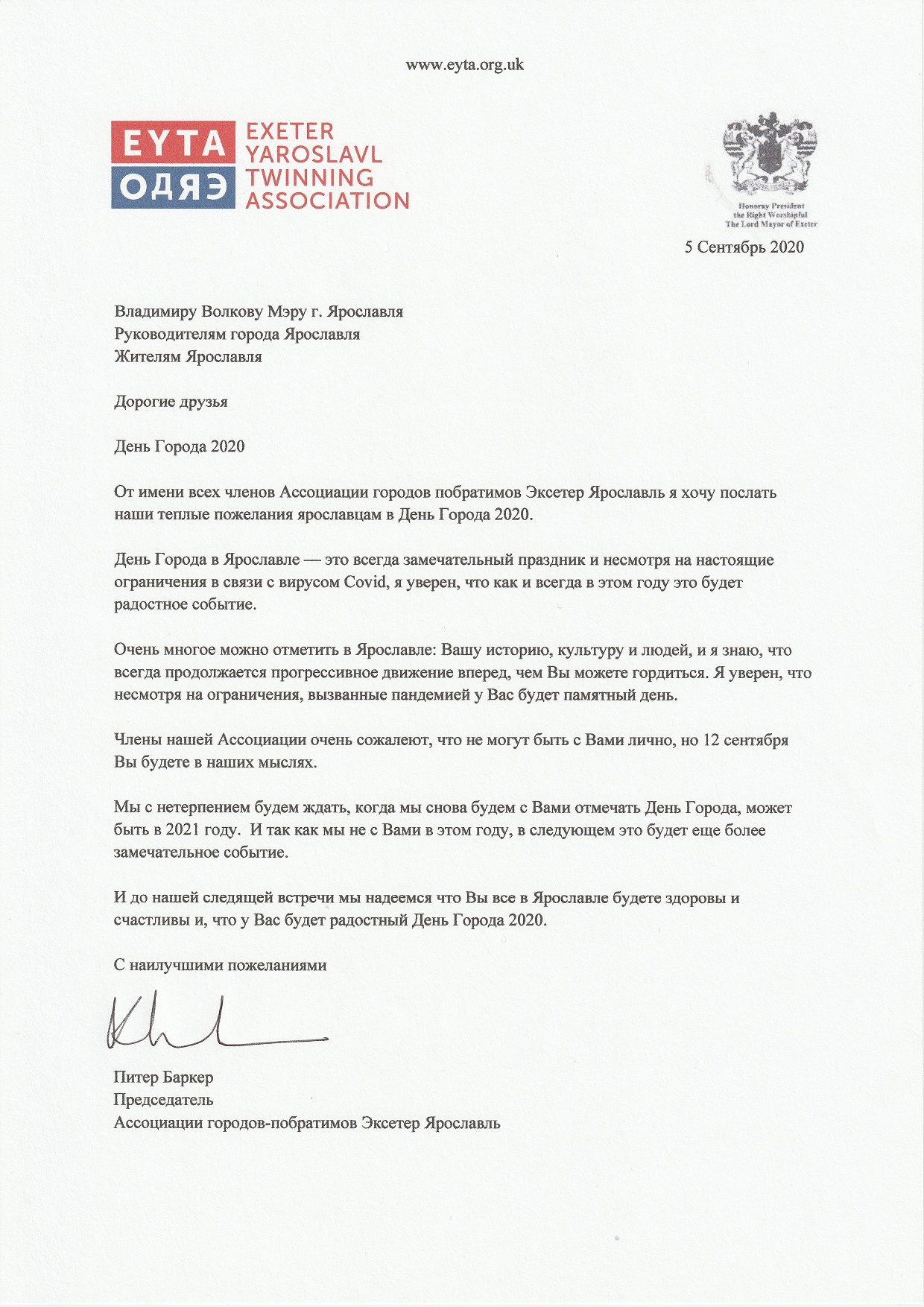 On 12 September Yaroslavl will celebrate its 1010th birthday.
Due to the limitations caused by the spread of coronavirus infection, friends and partners from Yaroslavl's twin cities will not be able to be with the Yaroslavl people on the day.
But we be thinking about our Yaroslavl friends on City Day and have sent them our warmest wishes
For more information about our work with Yaroslavl please contact us
---
Exeter Yaroslavl On-Line Social Evening 22 September 2020 18:00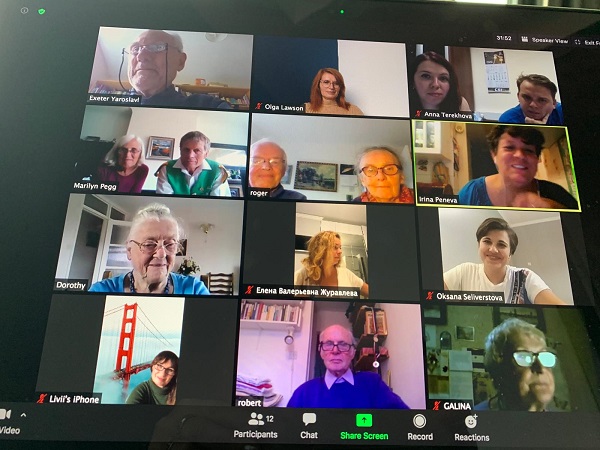 Next Exeter – Yaroslavl Social Meeting: 22 September 18:00 Exeter Time / 20:00 Yaroslavl Time.
Please let us have offers for the programme. Recently we have had Morris Music, oragami, poems, videos and even riddles. We will welcome any cultural activity, which is always appreciated by our friends in Yaroslavl and also by us back here.
Programme and reminder will be issued nearer the date. Contact us for more information
---
Annual General Meeting On Line 15 October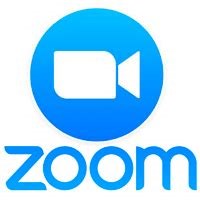 Our Annual General Meeting will be 15 October 19:00, on-line. Notification has been sent to members. Should a venue become available we notify members and revert to that.
We will welcome committee nominations. Peter Barker has completed 7 years as Chairperson and will step down. He is would accept another committee role.
There are two proposed constitution amendments. Details here. Any further amendments should be notified by 1 October.
Our committee decided to continue memberships until at least 28 February 2021 so existing members can continue without renewal.
Only members can vote at our AGM. New members are welcome and if they join by the AGM they will also be entitled to vote. Membership form is here
A general AGM pack for members use is available here
---
Russian Conversation Group On-Line 19 October 2020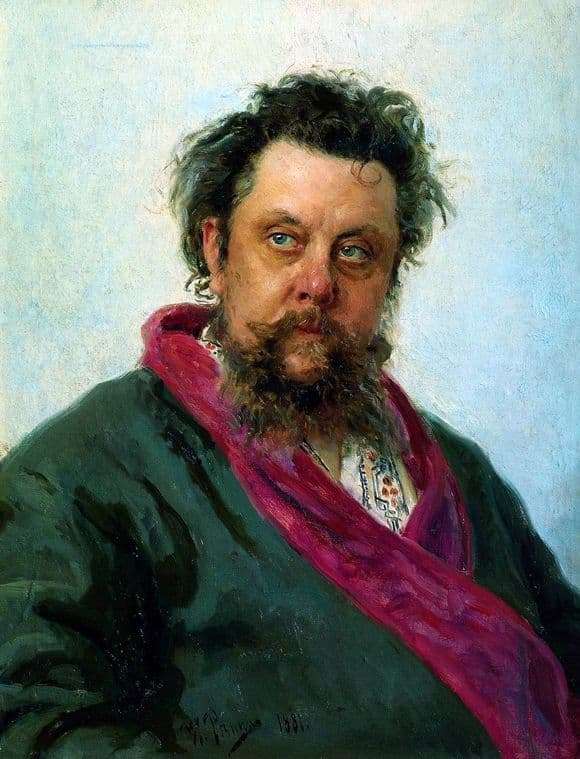 contact us
---
Probably First Ever Twinning Visit (Coventry - Volgograd)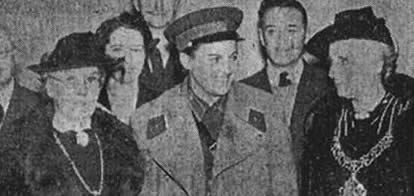 We think this is the first ever twinning visit (Coventry - Volgograd) Red Army sniper Lieutenant Lyudmilla Pavlichenko with the Mayor of Coventry (Mrs Alderman Smith) and the Mayoress (Mrs Councillor Cant) in the Central Hall in November 1942 (Coventry Evening Telegraph, 21st November 1942)
Снайпер Красной Армии лейтенант Людмила Павличенко с мэром Ковентри (членом горсовета госпожой Смит) и мэром (членом совета госпожой Кант) в центральном зале в ноябре 1942 года (Ковентри ивнинг телеграф, 21 ноября 1942 года).
Ask for information about Russian Twinnng
---
Limerick from Volgograd
Limerick from Volgograd for the Queen's Birthday
Roma Agayev of Volgograd International Friendship Club recites a limerick to celebrate the Queen's Birthday.
Volgograd is sick and tired Coronavirus; they decided to celebrate the Queens Birthday
Video kindly sent to us by Olga Igumnova Lawson of Coventy - Volgograd Twinning
---
Pushchin Pushkino Video
Students from University of Warwick, Coventry mark the twinning link between Coventry and Volgograd established in 1944 and the opening of the World War II Second Front in Normandy. They read in the original Russian Alexander Sergeyevich Pushkin's poem "To Pushchino" in the original Russian
Video kindly sent to us by Olga Igumnova Lawson of Coventy - Volgograd Twinning See video
---
Happy International Twin Towns and Sister Cities Day
Our friend Olga from Coventry has sent us a message for International Twin Towns and Sister Cities Day which on 26 April:
Dear friends Happy International Twin Towns and Sister Cities Day! Wishing you lots of good health! We are very inspired by Exeter & Yaroslavl twinning activities and would like to read and to hear more stories )))
Kind regards
Olga Igumnova Lawson
GB Twin and Sister Cities Foundation
Coventry and Volgograd Nobel Peace Prize Nomination 🕊
https://thetwinsistercitiesclub.wordpress.com
---
Happy Easter to EYTA Members and Friends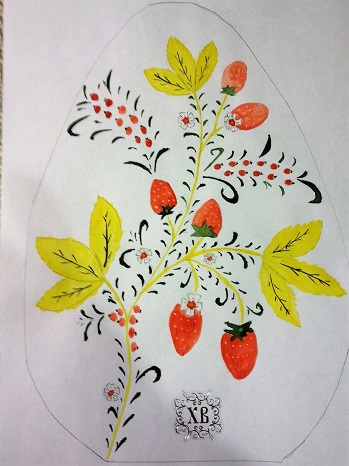 We would like to wish you a very Happy Easter.
We trust everyone is keeping spirits up but I'm sure we are all looking forward to current situation easing.
Our association's activities are suspended at the moment. That includes the Yaroslavl to Exeter visit which was due in June. We don't know when we will have our next exchange, but we will start considering that when travel resumes.
We would also like to wish you a Happy Russian Easter, which this year is one week later than ours. So as they say in Russia at Easter «Христос Воскрес»
---
Join our WhatsApp Group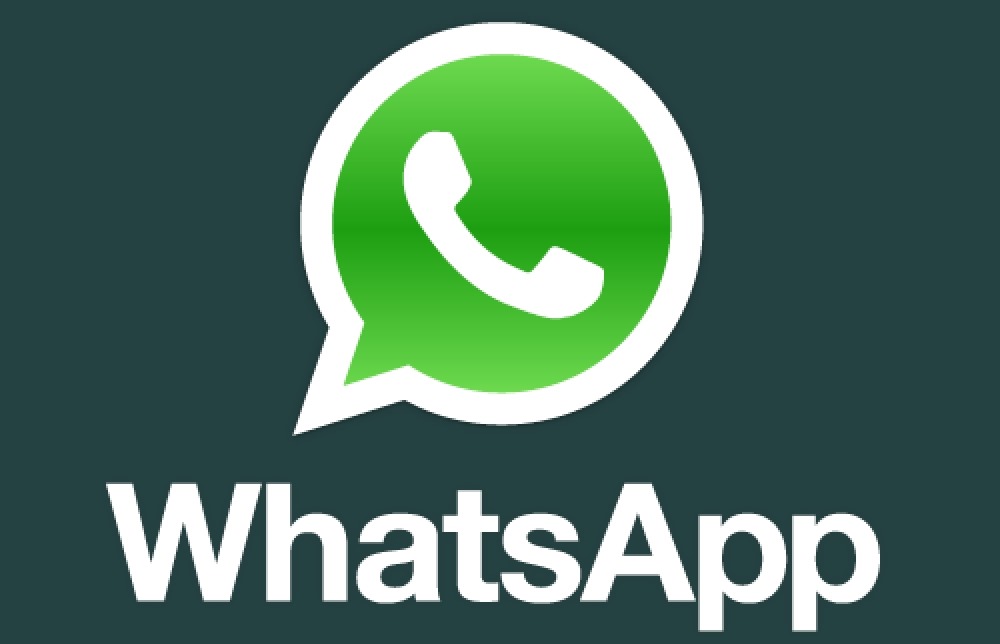 We have a WhatsApp group, called EYTA.
We welcome new participants. If you would like to join our group, particularly at this time where so many of us are having to spend time socially isolated please ask for the link. You can then add yourself to the group.
Ask for link to join EYTA WhatsApp
If you don't have WhatsApp you can download it here
---
COVID-19 Suspension of Social Activities
We regret that we will be cancelling or postponing all our social activities for the time being. You will understand that this is necessary because of the current health situation but we will resume as soon as prudent.
Activities which were due to take place soon include:
Russian Cultural Evening 26 March
Russian Visit Planning Meeting 27 March
First Tuesday of the month meet-ups in RAMM Café (museum is now closed)
Russian Conversation Group (next planned 20 April)
Committee Meetings (next planned 23 April)
Devon Twinning Circle Meeting 18 April cancelled by them.
There is also the planned visit from Yaroslavl 7 – 16 June. Our guests have bought air tickets and are getting their visas. Although this is some time ahead, we have warned the group leader about the likelihood of cancellation.
Pending resumption, we plan to circulate information emails. If you have any items that you would like to be shared amongst members, do please let us know. Contact us
We hope all stay safe and look forward to seeing you again hopefully soon.
---