Exeter to Yaroslavl Twinning Visit 11th – 20th June 2018
Monday, 11th – Tuesday, 12th June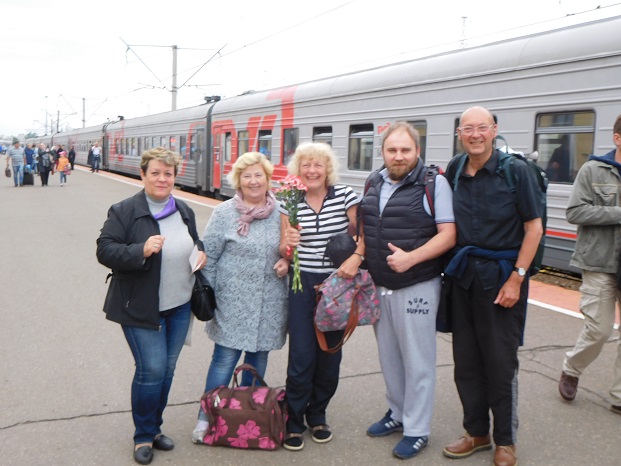 Before our arrival in Yaroslavl, we had already had quite an eventful journey. Because of the World Cup we had travelled via Munich to obtain a cheaper flight and then had spent the night in Moscow Domededovo Airport, then into Moscow on the 'elektrishka', through Moscow on the metro to catch our train for Yaroslavl at 'Yaroslavsky Vokzal'! How wonderful then to be greeted on the platform by Alexei Volkov, Irina Peneva, Galina Zhiganova and a welcoming bunch of carnations! After tea and bortsch at Galina's we were whisked off for supper in Mamyka, a Georgian restaurant, where we enjoyed some very unusual and delicious food.
Wednesday, 13th June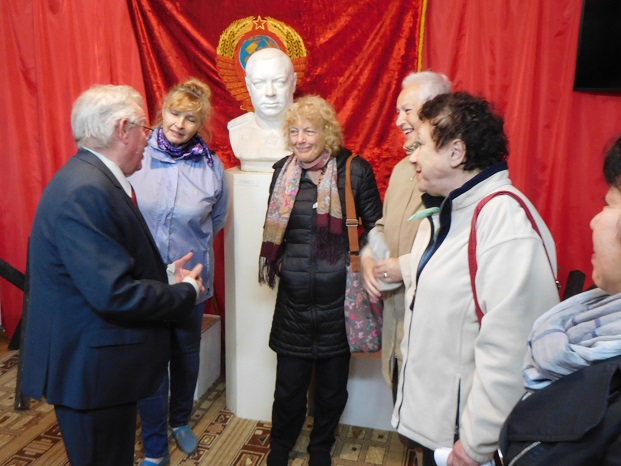 A group of us was taken by minibus to the village of Tolbukhino – named after a great Soviet hero who was born in a nearby hamlet. The lady who took us on a tour of the village is very active in the life of the village and was very proud of the fact that a lot of the buildings are being restored. After a most interesting visit to the museum led by the author of a book on Marshal Tolbukhino, we were treated to a wonderful lunch, prepared by the ladies of the village and washed down with plentiful supplies of vodka! Before we left the table we were treated to an impromptu concert of songs from the Russian group – hard to imagine that happening in England! In the evening we joined Galina and Victor for a relaxing walk in the park, followed by a tasty supper and vodka with honey.
Thursday, 14th June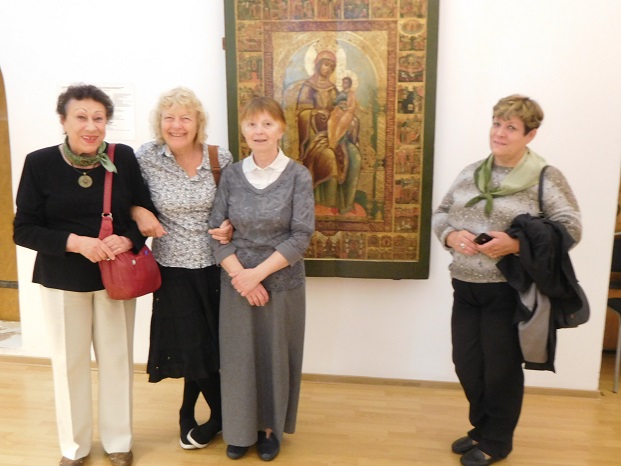 We took the trolleybus to the centre of town where we met Irina and Zoya for our visit to the Icon Museum. We had seen many wonderful icons before, but our guide's explanations helped us appreciate fully the meaning and artistry of the works. In the afternoon we gave the first of our talks (English Educational System & University of the Third Age) to the Teachers of English who had been invited to attend as part of their career development.
Friday, 15th June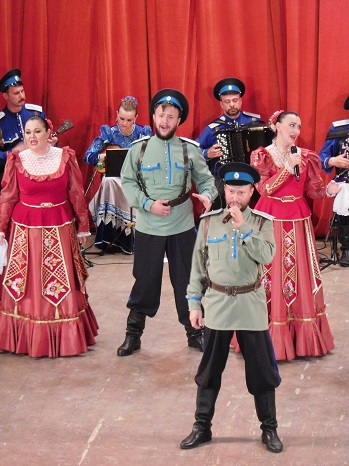 After a short trip in the 'marshrutka' we arrived at School 4 where we gave two talks to schoolchildren on the English Educational System and Colloquial English. After lunch it was again the turn of the teachers of English to hear our presentations on Charity Shops and Private Education in England. Unfortunately while John was holding forth on Private Education there was a constant fly-past of jet planes, rehearsing for the next day's 55th anniversary of Valentina Tereshkova's space flight. I'm ashamed to say that many of us rushed to the window to see what was happening! The evening was taken up with a most amazing and unforgettable concert of Cossack singing and dancing – what an experience!
Saturday, 16th June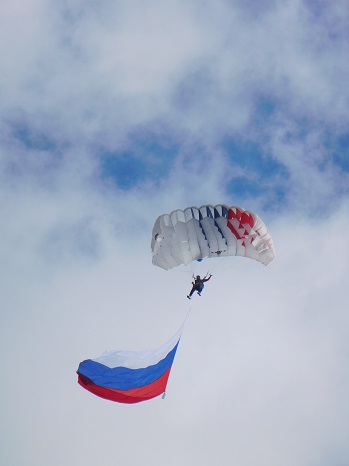 We said goodbye to Galina and transferred to the house of Alexei and Olga. Although they had stayed with us twice in Exeter, we had only seen photos of their two lovely daughters, so it was so nice to meet them at last – also their big, but friendly, dog! We all went to visit a Castle in an area which is being developed as a Tourist Complex with bungalows and a fishing lake etc. In the afternoon we walked down to the 'strelka' to see the air-display in honour of Valentina Tereshkova – a very grand affair with fantastic aerial acrobatic feats and parachutists. We even managed to see Valentina herself waving and watching the display from the top of the steps. After a walk along the embankment with Natalya we found a group of English people on a Volga cruise, one of whom lived in Ivybridge and one in Totnes!
Sunday, 17th June
We went with our hosts to the lovely town of Plyos on the Volga where the speciality is fish smoked in alder wood. We admired the beautiful landscape paintings of Levitan in the museum, enjoyed a very exciting speedboat ride on the Volga and climbed up the hill behind the town for a wonderful view of the surrounding countryside and the river.
Monday, 18th June
After spending the morning in the treasure trove of a shop buying Russian goods for sale at our Christmas Fayre in the Guildhall, followed by a really enjoyable visit to the zoo, we met up with Zoya and other members of the Friendship Group at an enamel workshop. The whole process of enamelling was explained and then John and I were able to test our artistic skills in making some colourful enamel. I was very proud of my efforts, but I have to admit that the pendant made by John was a greater success. However, it was a very interesting and enjoyable new experience for us both. To round off the evening we took a ride on the Big Wheel with Alexei and Olga and the girls and had an amazing view of the whole of Yaroslavl.
Tuesday, 19th June
After a fascinating hands-on visit to the Einstein Museum where, amongst other activities, we lay on a bed of nails and lifted a car by means of pulleys, we were welcomed at Exeter House. We talked to the children and their teachers about the Twinning and then presented the prizes and certificates to the winners of the English Essay competition on 'Friendship' and the Easter egg competition. For our final evening we were entertained in the countryside at the house of Evgeny – wonderful food and drink with lots of toasts, a goal-scoring football game and a singing game which we only partly understood but which was great fun! We also shared our memories of Ron Crabb who will be greatly missed by his friends in Yaroslavl.
Wednesday, 20th June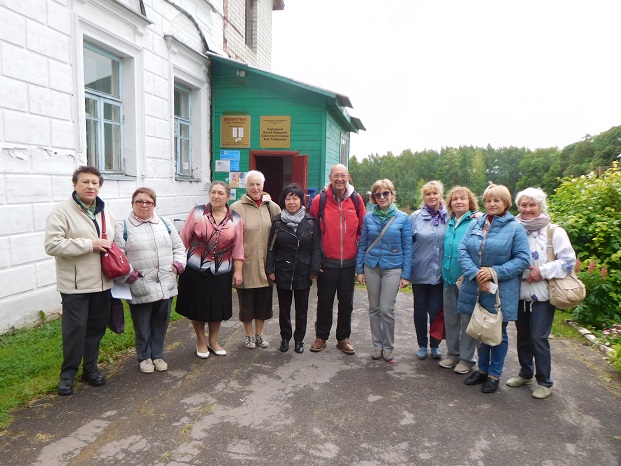 All good things have, eventually, to come to an end and so we had to say goodbye to our hosts as we caught the morning train to Moscow to continue our journey through Russia and on into China – on into the unknown! We had a truly wonderful time in Yaroslavl and, as always, were treated like royalty. We would like to thank our hosts, Galina, Olga, Alexei, Sonya and Masha for looking after us so very, very well and providing us with some absolutely delicious food and fun and friendship. A big thank you too, of course, to Irina for her constant cheerfulness, all her organisation and for sorting out our registration problems with Alexei. Many thanks, also, to Zoya for her humour and for organising the enamel workshop and the Icon Museum visit and, of course, thanks to everyone who helped in any other way. It was our third visit to Yaroslavl and, as previously, we always feel so very comfortable and totally 'at home' there.
Joyce and John Burgess